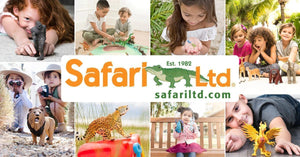 Safari Ltd®
---
US brand Safari Ltd® are a family company that have been creating wonderfully realistic animal toy figures and learning tools for over 30 years. Their 'Toys that Teach' educate children about the importance of nature and conservation through the joy of imaginative play.
Safari Ltd's carefully crafted, high quality and durable toys can be used in a variety of ways and are perfectly suited for any lesson, occasion, trip or project. The brand's toobs and life cycle sets found in our assortment make excellent Montessori materials for lessons about nature and plant life. The Safari miniature figures in the toobs are also perfect as Montessori language objects for identifying the beginning sounds of words and decoding larger sentences, helping to make literacy learning hands-on and fun.
All Safari Ltd's products are non-toxic, BPA-free, lead-free and phthalate-free and are rigorously safety tested, passing and exceeding all worldwide regulations and testing standards. Safari Ltd® products are recommended for children aged 3 years and up.
Safari Ltd® use eco-friendly packaging including recycled and recyclable paper free from UV-coating and are active in using green business practices throughout production. Safari Ltd® supports several different organisations in the fields of conservation, animal protection and ecologically sound business practices.