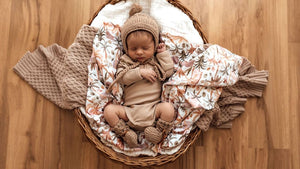 Snuggle Hunny Kids
---
We believe in great design and high-quality products. Style is important to us. Our unique and beautiful designs are exclusive to our brand. Working directly with artists, we create bespoke prints and turn them into contemporary
 baby swaddles, organic clothing, organic muslin wraps, nursery linen, bibs, milestone cards, baby accessories and more. We are also home to the Snuggle Swaddle, 
a stylish no zip sleep bag for babies to settle and sleep in. 
Our focus is on contemporary design and the use of quality materials: merino wool, linen, organic muslin and cotton jersey. Many of our products are GOTS certified organic. and all come packaged for in-store display, designed to co-ordinate and create beautiful gift-giving experiences.  
We are grateful to create products that celebrate the beauty of parenthood and package them together with providing exceptional customer service.